Updated on
While the Tower of London has been around in some form or another for nearly 1000 years, it hasn't always been a major tourist attraction. It's more likely that the Londoners of Norman England hated and despised the fortress, at least those who didn't support William the Conqueror's  claim to the throne of England. Its first purpose was to act as a stronghold should the citizens prove combative to their new king. It would continue to serve as a defensive structure, a refuge during times of strife, a menagerie holding wild animals, and, of course, a prison.
Disclaimer: Some of our articles may contain affiliate links; when you click on these links you'll have the option to purchase or register for a service at no extra cost to you, but doing so helps us run this blog. That's awesome!
Best Tips for a Visit to the Tower of London
Today, the Tower of London is the premiere paid attraction in all of England with more than three million visitors a year. That's so many tourists you'd expect long lines and mandatory reserved time slots. Luckily, that's not the case and even on a busy day in summer the only long line we experienced was to see the jewels. You can buy your tickets on line and save a pound and possibly avert a queue at the ticket counter but it's not necessary. Keep in mind that there are a few ways to make the visit even cheaper. If you have the the London Pass, entry here is included on your pass. And if you have the 2FOR1 from a British Railways office, you can use that as well.
The best advice I can give for a visit to the Tower of London is to go early and plan on spending several hours there. There is too much to do to try and rush it. Of course, the number one attraction on site is the Crown Jewels, and with good reason. The display is deep within the Jewel House through a labyrinthine passage that takes you through the history of the jewels in a multimedia extravaganza. I was worried that we wouldn't really be able to see the jewels but it is set up very nicely and you can go back around as often as you'd like. Again, getting there earlier in the day will reduce the waiting time and the number of people.
After taking in the splendor of the priceless treasures in the Tower of London, Jewel House, be sure and consult your planner's schedule of events. You really don't want to miss the free guided tour conducted by a Beef-eater in full regalia, for many this is the highlight of the visit. There will be plenty of time to explore the various towers, wall walks, and dungeons on your own. You'll also find that there are a number of well acted and designed reenactments and dramas to entertain and inform visitors of all ages.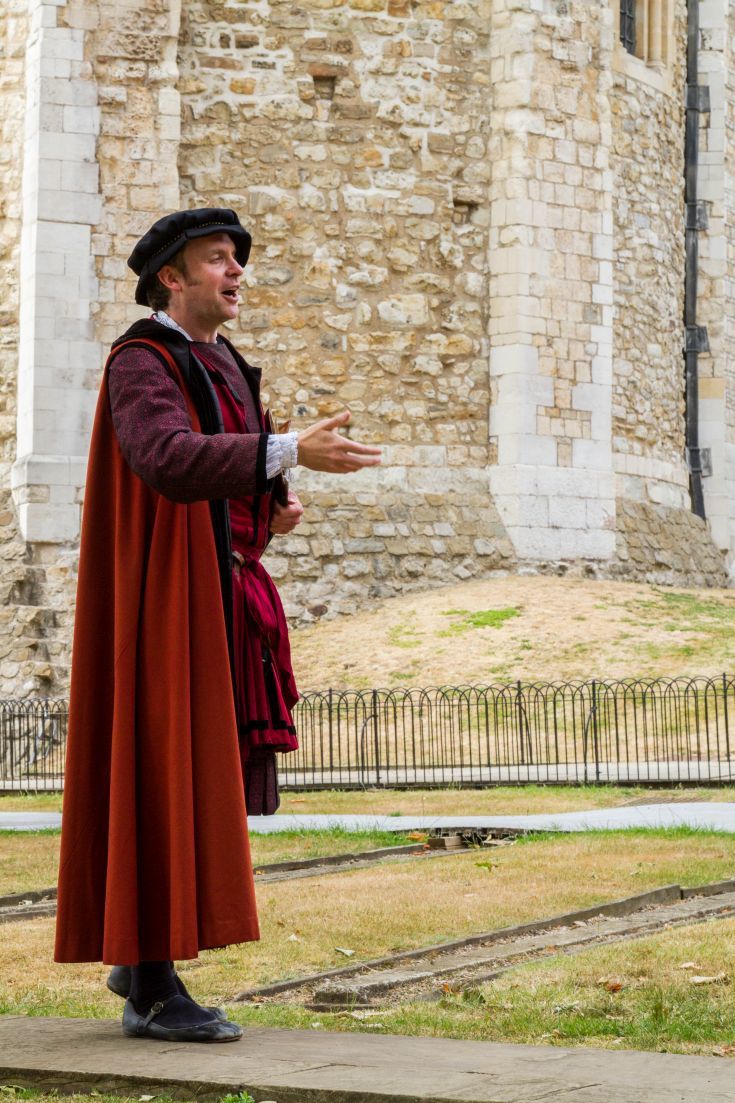 One of the best views of the Thames and the Tower Bridge is from the Tower of London fortification walls. Just be sure and start your wall walk in the right place. We went up the ext staircase and ended up taking the entire circuit backwards. Luckily it was late in the day and not too crowded.
Be sure and visit the armory in the white tower where you can try on some armor, try your hand at drawing a long bow, or feeling the heft of two handed sword. Who knows, it might even be the sword used to behead Anne Boleyn, Catherine Howard, or Lady Jane Grey; it must have been a frightening prospect to be a queen back in those days!
When it all gets to be too much take a break on the green, or find a quiet bench under a shady tree and just imagine what life in the middle ages might have been like as a prisoner in the stronghold of England's Tower of London.
The Tower is definitely the number one sight to see in London, but there is so much more. Check out this list of 60 Things to See in London and start planning your trip, and once you get a little peckish, you might want to try one of these dessert places to enjoy in London. We also love so many other places in England and we try to get out and see some of the smaller cities and countryside. Check out this article if you are looking for the planning the best things to do England on a three week itinerary.
Have you been to the Tower of London? What other tips would you share for a visit?