Updated on
What kind of tourist destination is Tbilisi?
I have to admit, when Corinne first came up with the idea of going to Georgia I was a bit hesitant. I don't know what it was but for some reason I just wasn't comfortable with the safety and security issues in the region. There had been a civil war in the country in the past two decades that had never been fully resolved.
The most recent military action happened in 2008 and resulted in Russian annexation of parts of the country in what looks like, in retrospect, a Russian rehearsal for what would later occur in Crimea. Georgia still considers one of the sectors, Abkhazia, as occupied territory, though relations with Russia have somewhat normalized. Apparently satisfied with their territorial gains along the Black Sea coast, Russia went on to bigger and bullier things while still maintaining a controlling presence in both South Ossetia and  Abkhazia.
With all of this transpiring in the past few years, I really wasn't sure what the current state of tourism was in Georgia. Searches on the internet indicated a small number of other travel bloggers visiting the country recently and nothing showed up as far as current safety or security threats. I always read through the area's US Statement Department Country Information anytime I'm planning on traveling somewhere new, and I didn't find much more on Georgia then I've seen in other third world countries other then a very specific section about visiting the two breakaway regions. By the way, this is also a good place to check for road and driving conditions if you are thinking of taking a road trip during your visit. With all we had read it seemed clear that most of Georgia the country was as safe and secure as Georgia the state.
Tbilisi is the capital city and the largest urban area in Georgia so of course there is crime there. During the war with Russia and the earlier civil war with South Ossetia and Abkhazia there were terrorist attacks and bombings, including air raids by the Russian Air Force, but that was in the past and little evidence of this remains today.
The current state of affairs in Tbilisi is pretty much business as usual in a big city. The local government has been slowly updating infrastructure, there are new building projects underway, and tourism is definitely on the rise. We never felt any danger of any sort. Well, except when crossing the street on a busy boulevard with no crosswalks.
We did have one experience that, while it wasn't threatening in any way, gave us cause to pause, and we ended up staying around to see what was happening. Our first guest house was across the river about a stone's throw from the iconic Sameba Cathedral and we decided it would be a great starting point for our first day in the city. It was a crystal clear, warm April morning and the Cathedral was shining in the sun. Families were strolling around the park like grounds surrounding the cathedrals enjoying the spring flowers, cherry trees, and sunshine. We took several pictures outside the building, walking around and marveling at the structure.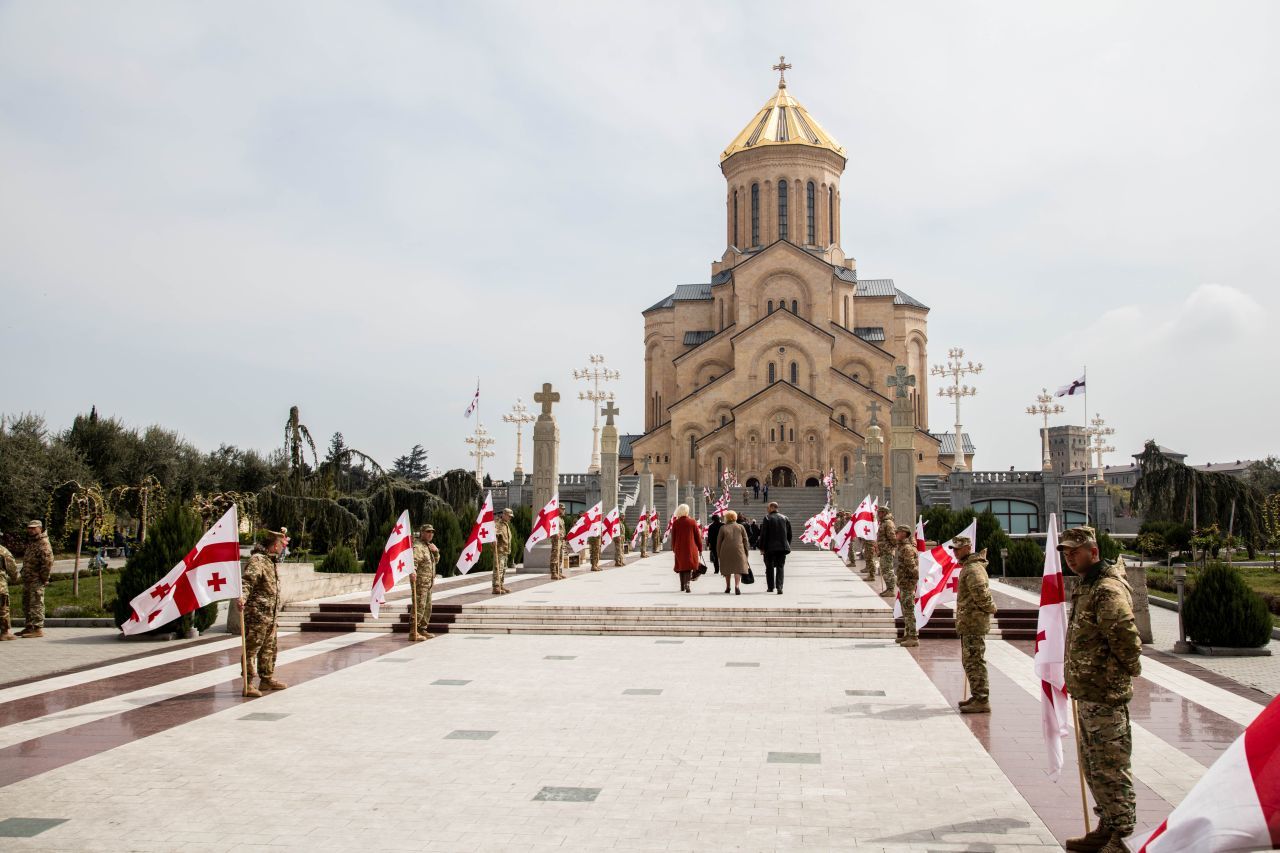 When we entered the cathedral there were twelve coffins, each draped with the Georgian flag and each bearing a framed picture of a young man. This was obviously a funeral or memorial service with families, officials, and military men and women in attendance. April 9th is the day of National Unity in Georgia, the day Georgia declared its independence from The USSR and the day, a year before that, when twenty protesters were killed by Soviet troops squashing a protest for independence. We thought this was something to do with the events of the past and it turns out these were newly identified remains from a aircraft shot down during the Abkhazia civil war in 1993.
While it's true that Tbilisi and most of Georgia is safe for tourists, with more and more development taking place to improve the tourism industry throughout the country, the fact remains that the scars and memories of war are still very much part of the public identity. However, most visitors to the country are welcomed with open friendliness. The biggest danger from most strangers is that you'll drink too much of their homemade wine that they will treat you to at every opportunity.
So what is the terrible truth about Tbilisi? Well, aside from a great alliterative title, the truth is Tbilisi is a city still emerging from Soviet era occupation and internal struggles marked with atrocities and  hatred. For me, however, perception is truth, and my perception of Tbilisi is one of cautious optimism. My recommendation is that you put the past in the past and go to Tbilisi and see it for yourself!
Stay tuned for our Tbilisi Top Ten List and Practical Information…
Have you been to Tbilisi? What did you think?
Pin it for Later!