Updated on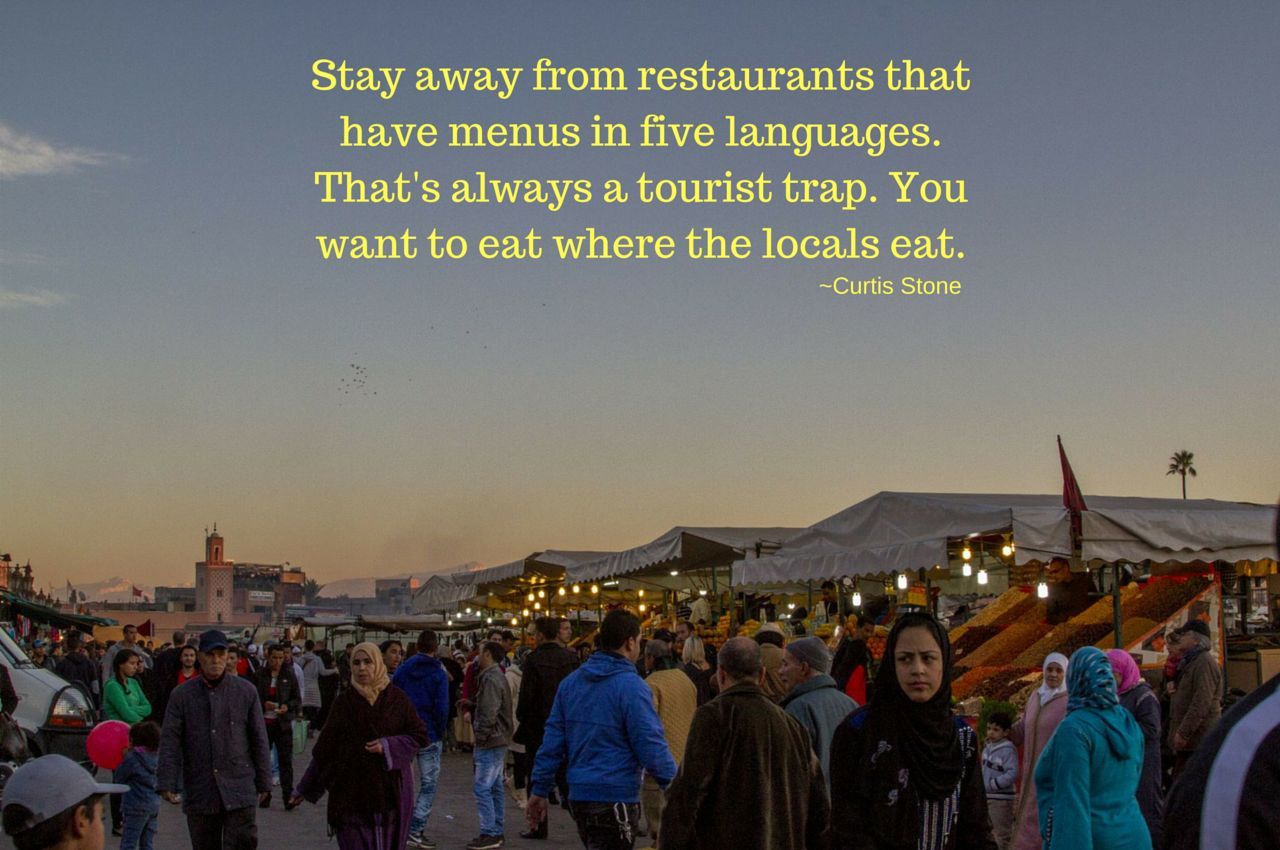 Disclaimer: Some of our articles may contain affiliate links; when you click on these links you'll have the option to purchase or register for a service at no extra cost to you, but doing so helps us run this blog. That's awesome!
Stay away from restaurants that have menus in five languages. That's always a tourist trap. You want to eat where the locals eat ~ Curtis Stone
This is one good rule to live by. You know what I'm talking about, the restaurants with those big shiny, garishly multicolored laminated tourist menus with column after column translating their over zealous menu in five, six, maybe even 10 different languages. These restaurants are everywhere tourists want to be. We've all seen them, maybe even been to one or two of them somewhere. In fact, it's often inevitable. Sometimes that's the only option, kind of like choosing a president in the USA, you have to find the one that sucks the least.
Having been to a few of these places out of necessity we have come up with a general theorem that still holds true after decades of travel. A restaurant's quality level is in direct proportion to the number of languages found on the menu. The more languages the lower the quality. Of course, there are exceptions to every rule, but even though that 10 language menu turns out to be decent doesn't mean it is high quality. We've never found one of those polyglot eateries to be holding a Michelin star, or even a mention in the Michelin Guide.
We have found some other exceptions and special cases. Some restaurants will have a separate menu card translating their offerings in different languages. These places are all over the map, so to speak, often times they are good high quality restaurants, but other times they are just as bad as if they had gone the multi-language laminated tourist menus route. Another special case is the restaurant with no menu. In almost every case with these restaurants the food and the experience has been phenomenal. However, a word of caution must be given for getting whatever the chef wants to give you. In some countries, insects are considered a delicacy. That's all I'm saying 'bout that. (BTW, we've had a few bugs, intentionally, and they've always been delicious).
Of course, there's also something to be said about the number of items on the menu, regardless of how many languages you'll find. Most restaurant goers know that a menu should be fairly small, with the focus being on delivering perfectly prepared food on every plate. So you might want to keep that bit of math in your selection equation, as well (The Michelin Guide certainly does).
The next time you're looking for a good spot for lunch or dinner, keep walking right on by those shiny, laminated wall-sized multi-flagged tourist menus; keep a sharp eye out for the one that is letting the food do the translating. And don't worry about getting served crickets. If you're in a locale with multi-language menus, then you'll probably find a waiter or chef with the stand alone menu who is excited to translate and explain their choices.
[inlinkz_linkup id=623039 mode=1]